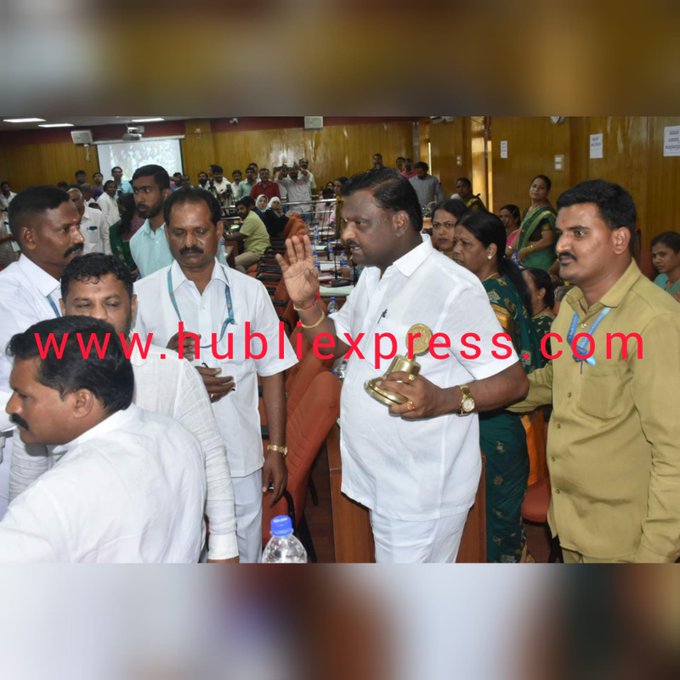 Hubballi: Not a single issue was discussed at the Hubballi-Dharwad Municipal Corporation's (HDMC) general body meeting on Friday, owing to mayor Iresh Anchatgeri's refusal to wear the traditional gown during the meeting, mayor refused to wear it citing it is a gift from the British and an obsolete custom. The heated argument and the chaotic situation made the mayor adjourn the meeting for an indefinite period.
As soon as the GB began, Congress members trooped to the well of the council and argued that he should wear the gown as a mark of respect to the chair and the council. and claimed that it was a tradition. Soon, BJP members came to the rescue of the mayor and defended the mayor's move. As both opposition and ruling party members started exchanging words, as the situation did not come under control, the mayor adjourned the meeting for half an hour.
When the meeting began again, the same situation continued. Both party members started exchanging words. The Congress members started raising slogans against the mayor. The mayor adjourned the meeting sine die, as the situation was going out of control.
Congress members alleged that by not wearing the gown, the mayor broke the tradition. It is with respect to the chair that the mayor took a unilateral decision. They said let the issue of the mayor's wearing a gown during the general body meeting of the corporation and while welcoming the VIP visiting the city be discussed at the general body meeting, and he should explain to the council why he wanted to shun the gown and provide the reason for doing so, and announce that from the next meeting he won't wear the traditional attire.
The Congress leaders were upset that the mayor did not listen to them. They said, "If he really wanted to shun the practice, he should have chaired the meeting wearing the gown this time. After the decision of the council and informing all the members, he could have shunned the practice from the next meeting, but he was adamant about his decision, and because of his adamant nature, the entire meeting was wasted."
Niranjan Hiremath snatch mayor's bell
As the situation became chaotic and the mayor announced the meeting sine die, Congress corporator Niranjan Hiremath snatched the bell kept in front of the mayor's chair to prevent the mayor from making confirming it. Later he handed it over to the mayor, and he formally ended the meeting by ringing the bell.
The Hubli Express is on WhatsApp now, you can join the WhatsApp group by clicking the link >>>>>  https://chat.whatsapp.com/GGfNcYk081zKiAlNb2oI5d >>>>>>> You can follow us on Facebook @HubliExpress