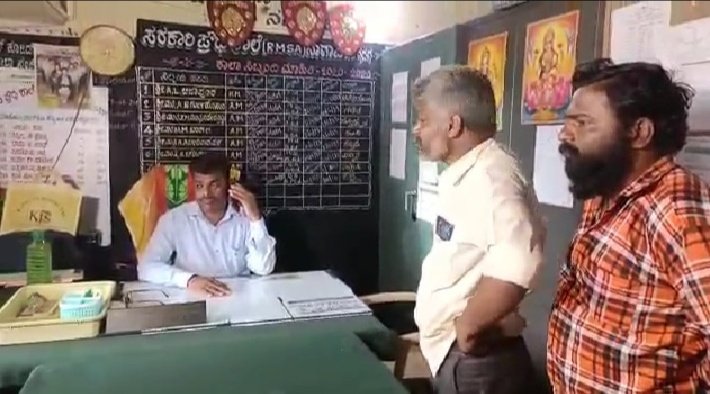 Gadag: Sri Ram Sene activists stage a protest on the premises of a high school in Nagavi village in Gadag Taluk, alleging that the school headmaster, Abdul Munaf Bijapur, had organised an essay competition on Islam and on the founder of the religion.
 The activists alleged that it was an act of religious conversion by the headmaster, and they suspected that he may have been part of a team that carry out the conversion. The Ram Sene activists alleged that he also kept a prize of Rs 5,000 for the winner. The students were lured by the money and started reading about Islam and its related literature and about its founder, said Raju Khanappanavar, Sri Ram Sene Divisional Secretary of Dharwad division.
The activists demanded the teacher to show the government instruction in connection with organising such an essay competition, but the headmaster said that someone gave him books and asked him to organise the competition, and he just listened to him. The protesters demanded him to summon the "someone" to the school, but the teacher failed to do it.
Later, BEO and CPI Gadag Rural visited the spot and pacified the agitators. The protesters withdrew their protest after getting an assurance from the BEO that he would recommend suitable action against the teacher after a comprehensive inquiry.
The Hubli Express is on WhatsApp now, you can join the WhatsApp group by clicking the link 
https://chat.whatsapp.com/GGfNcYk081zKiAlNb2oI5d
You can follow us on Facebook @HubliExpress